TCM Silver Edition
2c92c0f94bbffab1014bdc7d77bd0fa1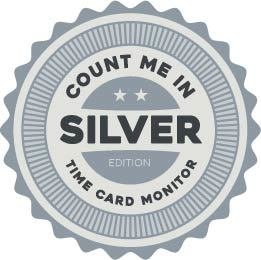 The Silver Edition expands on the Bronze Edition's features and allows for employee punches to be compared to a schedule, among other business rules. It allows you to track hours for up to 100 employees.
Package includes Silver TCM 100 Software, 1 desktop USB Biometric Scanner, 1 year of support (phone support, free software updates, cloud based disaster recovery.) Annual Support after year 1 = $199.00
Highlights:
(Additionally to those of the Bronze Edition)
Operates on one computer.
Compatible for as many as 100 employees.
1 Digital Persona UrU scanner is included.
Additional biometric and other input devices are available.
Standard connection to Quickbooks®.
1 set of business rules.
Define holidays besides those that are standard.
Carry forward hours to other pay periods.
Shift differentials based on time of day (premium pay).
Specify reconcile items for break rules.
Prevent unscheduled punches.
Compare schedule to actual hours.
Automated rounding to schedules.
Event Log Report (Audit Report).
Access Denied Report.
Tardy and Absent Report.
Weekly Schedule Report.
Needs Reconcile Report (Daily Exception Report).
Refer to the Version 6.3 Edition's Features grid for a more complete highlights list.