TCM Platinum Edition
2c92c0f94bbffab0014bdc7fdc6a6958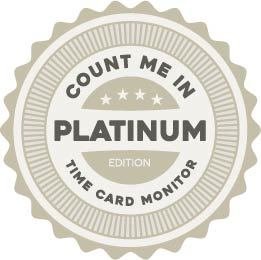 The Platinum Edition has the same feature sets as our Gold Edition, while providing a more robust architecture that busy networks or multiple locations need. The system enables companies with multiple departments or multiple locations to feed data into a centralized data base in real time.
Package includes Platinum TCM 1500 Software, 1 desktop USB Biometric Scanner, 1 year of support (phone support, free software updates, cloud based disaster recovery.) Annual Support after year 1 = $999.00
Highlights:
Operates on licensed networked computers in multiple facilities.
Compatible for up to 1500 employees.
Powered by Microsoft Access data base.
Wide Area Network Application.
Runs as a Windows Service
1 Digital Persona UrU scanner is included.
Additional biometric and other input devices are available.
Standard connection to QuickBooks®.
Unlimited sets of business rules.
Project and Job Cost Tracking (LTMM)
Single tap fingerprint engine.
Automated rounding.
Track projects and types of work.
Collect labor time management data.
Multiple companies in the same building if on the same system.
Ability for project utility to generate job tickets.
Manager timecard approval sign off.
Automated rules for breaks and paid breaks.
Unlimited pay codes/hours.
Definable pay frequencies.
Define holidays besides those that are standard.
Carry forward hours to other pay periods.
Shift differentials based on time of day (premium pay).
Shift people into different types and assign different business rules.
Specify reconcile items for break rules.
Prevent unscheduled punches.
Spanning midnight rules available.
Compare schedule to actual hours.
Automated rounding to schedules.
Variable time setting for end of day process.
Definable password memory time.
Four (4) supervisory workstations.
Exports to Comma Separated Values file.
Flexible reporting.
Employee self check reports.
Who's Here Now Report.
Off line data collector available.
If you have more than ten (10) locations or over 1500 employees, please look at our Diamond Edition.