TCM Gold Edition
2c92c0f84bbfec58014bdc7eb48e0364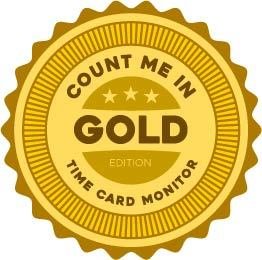 Our Gold Edition expands on the Silver Edition's features and includes as many different departments or groups of business rules as necessary. People can then be added by department, and specific rules can be made relevant to specific groups. The system allows for data to be accessed on additional licensed network computers in the facility.
Package includes Gold TCM 500 Software, 1 desktop USB Biometric Scanner, 1 year of support (phone support, free software updates, cloud based disaster recovery.) Annual Support after year 1 = $399.00
Highlights:
(Additionally to those of the Bronze and Silver Editions)
Operates on licensed networked computers in one facility.
Compatible for up to 500 employees.
1 Digital Persona UrU scanner is included.
Additional biometric and other input devices are available.
Standard connection to QuickBooks®.
Unlimited sets of business rules.
Project and Job Cost Tracking (LTMM)
Manager timecard approvals sign off.
Save reports as templates.
Project and Job Cost Tracking (LTMM)
Spanning midnight rules available.
Tip entry available.
Operational shift buzzer available.
Local Area Network – Peer-to-Peer.
Local Area Network.
Four (4) Supervisory Workstations.
Hours Summary Report.
Today's Punch Report.
If you need more than 3 punch locations in a single facility, or if you need to track over 500 employees, please look at our Platinum Edition.
Refer to the Version 6.3 Edition's Features grid for a more complete highlights list.