TCM Bronze Edition
2c92c0f84bbfeca5014bdc74a35547bd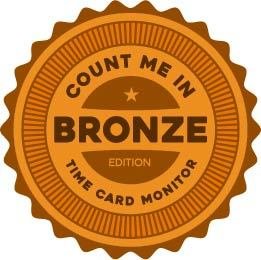 The Bronze Edition is our software alternative to a manual time clock. Its simplified features make it easy to use, and its price makes it very affordable. The Bronze Edition is perfect to track hours for up to 25 employees.
Highlights:
Operates on one computer.
Compatible for up to 25 employees.
Software for one computer.
1 Digital Persona UrU scanner is included.
Standard connection to Quickbooks® available
Additional input device options available.
1 set of business rules.
Single tap fingerprint engine.
Adds up timecard hours.
Spreadsheet timecard editor.
Customizable sounds.
Automated rounding.
Automated rules for breaks and paid breaks.
Multiple pay codes/hours from which to choose.
Definable pay frequencies.
Variable time setting for end of day process.
Programmable password memory time.
Exports to Comma Separated Values file.
Flexible timecard reporting.
Employee self check reports.
Who's Here Now Report.
Reconcile Log Report.
Note: Does not include scheduling